Conspiracies, suspicions mix as social media 'monitors' track Arizona election audit
Robert Anglen
Arizona Republic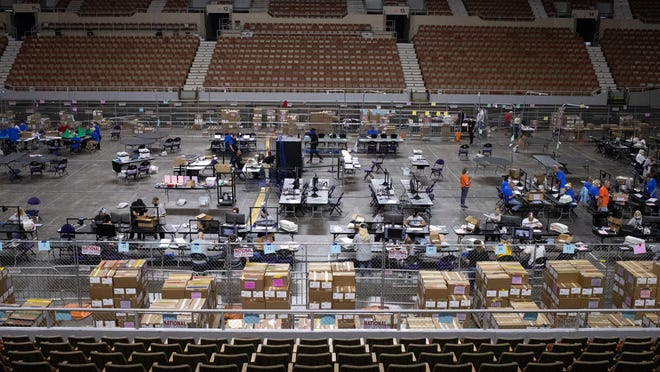 While the Arizona Senate's official audit of 2020 ballots cast in Maricopa County progresses inside Veterans Memorial Coliseum, another one is occurring on social media.
Hundreds of self-appointed "monitors" are engaged in a kind of audit of the audit, tracking the hand recount via online video feeds and reporting "irregular activities" through a web app called Telegram. 
A chat page tied to the official audit efforts has become a virtual hub, with administrators telling "patriots" to say something if they see something. The page is called Arizona Audit Live Feeds.
Posters across the country have responded with messages about UV lights, blue pens, fingerprint scans, black-shirted figures near counting tables, ballot handling, half-filled boxes and lagging cameras that could derail efforts to prove the election was rigged against former President Donald Trump.
Since the audit began six days ago, the chat has buzzed over Democrats' (DEMONcrats") efforts to stop the recount, a temporary restraining order ("terrible"), a judge's ("Deep State") ruling allowing the audit to go forward, media coverage ("fake") and perseverance ("woohoo, praise God").
Prayers even were offered for Trump attorney, Rudy Giuliani, Wednesday after federal authorities served a search warrant at his New York City apartment.
"Do they even need to go through the entire bunch of ballots, can't they stop wheh they get enough evidence?" a poster named FB Jones asked Wednesday.
"I don't think so, because that would leave things open that they targeted certain ballots and it would negate the integrity of the audit," The Coffeedrinker88 replied about a minute later.
Listen:What's going on with the Arizona Senate audit?
Nonstop emojis, memes and chat
Emojis, memes and comments tumble nonstop from conservative participants on the app, buoyed by audit updates and calls for volunteers by administrators.
Arizona Audit Live Feeds links directly to Arizona Audit, which is the official webpage for Arizona Senate Liaison Ken Bennett. 
Bennett, who once served as Arizona secretary of state, was tasked by the Arizona Senate to serve as its eyes and ears on the audit, which is being led by a private Florida-based company called Cyber Ninjas.
The Arizona Senate hired Cyber Ninjas to helm the $150,000 audit, which was prompted by unproven allegations of voter fraud. Cyber Ninjas will lead three companies in a hand recount of Maricopa County's 2.1 million ballots.
Cyber Ninjas founder Doug Logan is a Trump supporter who has pushed unfounded election fraud claims as part of the "Stop the Steal" movement. Logan told reporters last week he would not touch any ballots. 
About 100,000 ballots so far have been counted with the audit, which is scheduled to end May 14. Whatever the outcome, the audit will not change election results.
President Joe Biden and Vice President Kamala Harris carried Arizona by 10,457 votes, the narrowest margin of any state in the country. The results were certified by Gov. Doug Ducey, the secretary of state and the Maricopa County Board of Supervisors.
Despite concerns about ballot security and the privacy of voter information raised by Democrats, Bennett maintains officials are  "making sure that everything is very secure."
Bennett and Arizona GOP chair Kelli Ward spoke outside the coliseum Monday, describing the audit as a way to ensure election integrity.  
"The fake news media wants to pretend this is a Republican audit," Ward said in the update streamed on YouTube. "This is not a Republican audit. This is an American audit."
Bennett dismissed suggestions that county officials had already audited the ballots, saying Cyber Ninja is doing "the first and full forensic audit."
"It's time to prove that elections can be transparent and open and verifiable," he said. "And then we'll know next time if we can believe them or not."
County officials hand-counted a statistically significant sampling of ballots and conducted two logic and accuracy tests of voting machines. The audit showed votes were counted with 100% accuracy.
Election fraud claims:Founder of Cyber Ninjas promoted election fraud theories
Chat rooms for all 9 cameras
Access to the coliseum at the Arizona state fairgrounds is supposed to be strictly controlled. Inside, activities are captured live on nine separate cameras.
Arizona Audit Live Feeds has separate Telegram rooms set up for nine cameras that members are allowed to join. For instance, AZ Audit Cam #7 had 606 members at one point on Wednesday. 
Volunteers are asked to watch the cameras and file official reports to Arizonaaudit.com.
"Please drop reports into each of these nine rooms, one for each camera," the site instructs watchers. "Keep room clear of all chats except for incidence report." 
Live Feeds stresses the need for transparency and full disclosure.
"Errors are to be fixed. Audit must be done correctly and transparently," the site states. "There is no fear in truth!"
Q&A:Arizona Senate-ordered audit of 2020 election results in Maricopa County
App abounds with fear and rumor 
But fears abound in the main chat room, where watchers share rumors and observations. QAnon conspiracy theorists have weighed in with bogus claims that Trump and others secretly watermarked mail-in ballots to prove fraud.
That left some watchers on Telegram speculating that workers are scanning ballots for watermarks. They've also discussed whether workers are searching ballots for fingerprints and what it would mean if they were.  
Watchers message one another looking for clarity about the way ballots are removed from boxes and put back, how fingerprints are checked and if ballots are being scanned using ultraviolet light.
"I speculate that these ballots need more checking and didn't pass the UV," a poster named Gise said after noticing a camera zooming on one area.
"Although it might look like chaos to us and others, I'm sure they have a detailed and logic based operation at hand," Mtn Mama posted a short time later. "Again, MSM will try to swing this as a cluster@@ but we know better."
Not all of the posters champion transparency. Some decried a decision by a Maricopa County Superior Court judge Wednesday requiring Cyber Ninja to turn over its audit methodologies to the Secretary of State's Office. 
"We do not want transparency," a poster named Red Doorman said. "Yes, we have the livestreams, but we cannot let the Democrats know every procedure. They'll bring in experts to say the procedures aren't sound science or some Bs and keep it going on and on."
Red Doorman, who is prolific on Live Feeds, said he wants the Senate to be able to conclude there was fraud and throw out future election results.
"That way, whenever people 'vote' for Democrats, we can have the Senate throw these results out and ensure only GOP can win," he posted.  "Because if we know that Dems win, they must have cheated."
Robert Anglen investigates consumer issues for The Republic. If you're the victim of fraud, waste or abuse, reach him at robert.anglen@arizonarepublic.com or 602-444-8694. Follow him on Twitter @robertanglen
Help us fight for you and support local journalism.Subscribe to azcentral.com today.