Audit backers pressure Senate to kill new digital recount of Maricopa County ballots
Robert Anglen
Arizona Republic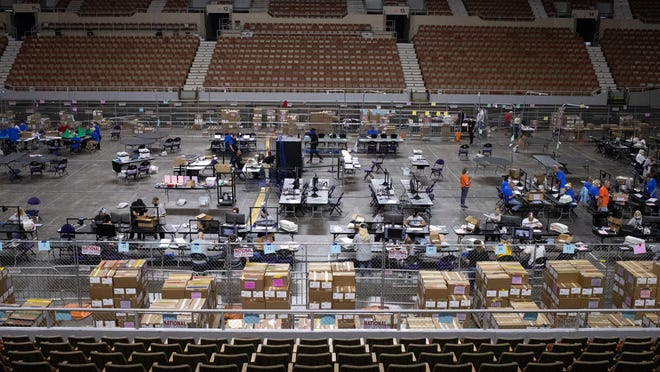 Staunch supporters of the Arizona audit are pressuring the Senate to reject a new electronic recount of Maricopa County ballots cast in the 2020 election.
A social media campaign linked to the official audit site is trying to kill the Senate's deal with a California company to analyze digital images of 2.1 million ballots.
Anonymous administrators directing the campaign have pushed thousands of their followers to call and email lawmakers to insist there's no need for a new recount. And it's working.
"It is influencing some of the senators," Senate audit liaison Ken Bennett said Tuesday, adding that opposition is being fueled by partisan extremism rather than audit concerns. "What else could it be?" 
Days earlier, Sen. Kelly Townsend, R-Mesa, told followers on Telegram that she had "been able to confirm that the group out of California, Citizens Oversight, will not be used to do the ballot image audit." 
Her post was shared and praised by administrators of Arizona Audit Live Feeds, a Telegram site that has become a virtual audit hub with daily briefings, prayer sessions and fundraising pitches.
But Bennett, who defends the electronic imaging as an important way to check the accuracy of the hand count, said the Senate is still negotiating with the non-profit Citizens Oversight.
"I spoke to Kelly Townsend and I told her it was a good thing," Bennett said. "She seemed to understand why we are thinking this is so important."
Townsend declined to comment on her original post or the digital audit.
"We are under attack," said John Brakey, a Tucson election transparency activist who serves as a consultant to Bennett and to Cyber Ninjas, the private contractor hired by the Senate to lead the hand count of ballots.
"This is myth busting," Brakey said. "Nobody should be against the imaging ... unless they are afraid what we are going to find."
Brakey, who advocated hiring Citizens Oversight, said the new audit will bring clarity to claims of election fraud by testing the accuracy of the hand count and of election audits done by Maricopa County.
He said the online campaign was being steered by conservatives who are using the Live Feeds site to raise funds and tout election conspiracies.
Senate President Karen Fann, who authorized the audit, and former state GOP chairman Randy Pullen, who works on the audit team, continue to support the digital imaging of ballots, Brakey said.
"The Senate is receiving a lot of pressure not to use Ray Lutz," he said.
Lutz is a San Diego area businessman, a longtime activist and founder of Citizens Oversight. He told The Republic that he has conducted unofficial audits on election results in Florida and Georgia using a system he created called AuditEngine.
The system would scan the original digital images of ballots and count all votes cast for every race in 2020, not just the presidential and Senate races being tallied in the hand count.
Lutz said his company never has been hired to audit an election, and his technology has never been used in an official election audit. 
Nonpartisan election consultants have raised concerns about the lack of clear procedures of the hand count, the inexperience of the contractors hired to do the work, that the procedures have changed in numerous ways since the beginning, and the lack of bipartisanship and transparency.
Republican state senators launched the audit after questioning the validity of the general election results in Maricopa County, where President Joe Biden defeated former President Donald Trump by 45,109 votes. 
The Arizona Senate hired Cyber Ninjas to helm the $150,000 audit. Before being hired, Cyber Ninjas' CEO, Doug Logan, promoted unfounded claims of election fraud on social media and indicated the election was rigged against former President Donald Trump.
Lutz said Citizens Oversight would work directly for the Senate, not as a subcontractor under Cyber Ninjas.
Bennett said online opponents are seizing on Lutz's record as an activist and his party affiliation as a Democrat.
Lutz has advocated for election reforms and led efforts to remove nuclear waste from the now-defunct San Onofre Nuclear Power Generating Station. He was arrested in 2011 for refusing to move a voter registration table he set up during an Occupy San Diego rally.
"The impression I get from him is that he is passionate about election integrity," Bennett said. "I think he has challenged elections run by Democrats and Republicans."
It's unclear who runs Arizona Audit Live Feeds. Bennett said he has no idea who is behind the site, which links directly to his official webpage at Arizona Audit.
Administrators on the site use handles rather than names. One of the key operators goes by "Eyes on Jesus Always." The site offers real-time updates with detailed insider information from Veterans Memorial Coliseum, where the count is ongoing.
Minutes after the audit night shift ended at 1 a.m. Tuesday, the site posted information about the counts and the remaining work.
"About 5.5 pallets (250,000 ballots) remain for hand count (Over 2.5 work days remain)," Live Feeds posted. "7 to 10 work days remain for camera forensic audit, assuming 3 full shifts with 64 stations."
People who support the ballot recount should be in favor of hiring Lutz regardless of his party affiliation,  Bennett said, because Citizen Oversight could provide a clear test of Dominion Voting System machines.
Dominion, the brand of vote tabulation machine the county uses to process ballots, has been the target of nationwide rumors and baseless conspiracy theories that its software was compromised to take votes away from Trump.  
"The people on the right who are suspicious of Dominion should be in support of a retabulation," he said. "If you want to check Dominion, these are things you do."
There are two ways the machines could have "messed with the vote," Bennett said: Manipulate the ballot image or manipulate the tabulation. 
Lutz's software could show if it happened, Bennett said. "An independent tabulation is critical."
Robert Anglen investigates consumer issues for The Republic. If you're the victim of fraud, waste or abuse, reach him at robert.anglen@arizonarepublic.com or 602-444-8694. Follow him on Twitter @robertanglen.