Arizona Senate releases texts, emails offering glimpse of audit, but thousands of documents remain withheld
Corrections & Clarifications: An earlier version of this article misidentified the person who said she created the audit's Telegram channel.
The Arizona Senate on Tuesday released a trove of documents related to the Maricopa County election review but continued to withhold thousands of pages of emails, texts and other communications.
Two judges had ordered the Senate to turn over the records, which comprised approximately 22,000 documents ranging from emails with voters about the audit to disputes with other elected officials about the effort.
But the Senate also provided a 269-page list of documents it would not release, which appeared to include nearly all communications with Cyber Ninjas, the Florida-based company contracted to conduct the audit.
The plaintiffs in the cases can review that list of undisclosed documents and ask the judges to determine whether they, too, should be released.
An initial review of the thousands of emails and text messages revealed conversations among political operatives, elected officials and those pushing election fraud theories.
And President Donald Trump's allies, including former White House Chief of Staff Reince Priebus, were brought into the conversation early, according to documents released Tuesday.
The communications appear to shed some light on some of the more secretive elements of the audit, including how a portion of the money was raised to pay for it, a few incomplete details about billing, and who operated some of the inflammatory social media accounts that seemingly had a direct line to the operations.
A nonprofit group called American Oversight sued the Senate to compel the release of the records. The group was founded in part by former Obama administration officials to investigate the Trump administration.
"Though we are pleased the Senate produced these documents, it took 21 weeks, a lawsuit, appeals proceedings, and two court orders to get the Senate to comply with the law," said Austin Evers, executive director at American Oversight. "With more still to come, the Senate's relentless effort to keep public scrutiny away from its sham 'audit' is reason enough to doubt the operation's credibility, intentions, and commitment to the public interest."
The Arizona Republic has also filed a lawsuit seeking records from the Senate, as well as directly from Cyber Ninjas.
It was not immediately clear how the Senate and its attorneys selected the documents they produced and those they withheld.
Approximately 2,500 documents were withheld, citing legislative privilege, attorney-client privilege or other privileges, according to a log provided by the Senate's attorney. Those included emails between Arizona senators, Arizona Senate staff, their attorneys, audit liaison Ken Bennett, Cyber Ninjas CEO Doug Logan and others.
New details of audit emerge
Text messages from audit spokesperson and former Arizona GOP Chair Randy Pullen sent in December, months before the effort started, show he was working to devise an audit to challenge election results. He sought help from Priebus about who to hire to conduct the audit.
"I am assisting on the election audit in AZ," Pullen wrote in a series of text exchanges with a "Reince P" that started in December. "I would like to discuss with you … Any suggestions on election audit firms?"
The texts, although partially redacted, provide insight into how the audit came together and how the Arizona Senate used partisan sources to select the audit team.
"As you know, this is (a) lawyer's dream come true," Pullen says in a Dec. 23 message.
Pullen goes on to ask "Reince P" if he would like to help out in the audit because they will need good attorneys to assist with an audit plan.
"I am drafting up an audit plan," Pullen wrote on March 7. "I have a couple of examples. Did you put one together for Wisconsin? If possible, could you share."
Pullen in the texts laid out a three-prong strategy to push back at critics.
Other texts show Pullen was a player in raising funds for the audit, which were topping $3.3 million in April.
He directed others to wire money to a nonprofit called the Guardian Defense Fund, where he served as treasurer. In an April text to former Arizona treasurer and Trump campaign official Jeff DeWit, he arranged for a $175,000 donation but said he wished it were more.
"The sh*t is hitting the fan," Pullen said in the April 22 exchange. "TRO (temporary restraining order) filed by Democrat Party. It is BS, but not a surprise. Need money for adding more security and for national legal team."
Pullen referenced matching donations, telling DeWit that he could get "600K if the RNC does 200K," referring to the Republican National Committee.
"At this point, I need $200 to $225 thousand to pay for the security," Pullen wrote on May 11. "Any help would be greatly appreciated."
Pullen also sought to reassure Trump through DeWit that donations to an initiative called Fund the Audit by The American Project nonprofit were legitimate.
"So they are OK to donate to? Trump asking," DeWit wrote in an April 28 text.
Pullen later asks DeWit to call former Maricopa County Sheriff Joe Arpaio, saying, "Arpaio has information for 45" a reference to Trump.
Pullen might have been worried about funds in April, but texts indicate the audit costs by July were in the millions.
A partial spreadsheet sent to Pullen via text on July 13 by someone listed as "Joyce H" appears to provide a breakdown of audit costs, the amount owed and the amount paid.
Among the line items were counting support ($171,462); litigation support ($30,271); operational support ($36,320); project expenses ($246,816); computer forensics ($931,960); recruiting ($81,351); and "counting/PE execution" ($1.85 million).
The texts are not complete, and Pullen in the messages directs the sender to call him. There is no other reference to money than a string of messages, but the texts make it clear Pullen was provided more detail about the costs.
He confirms that Doug Logan, the CEO of Cyber Ninjas, forwarded the costs to a third party.
Pullen, also in the texts, appears to reaffirm his commitment to overturning the election. He refers to other members of the Senate as cowards for not supporting the audit or raising concerns.
In one exchange, an audit supporter asks if the Senate is on "our" side. Pullen responded: "Yes."
He later wrote that Bennett could not be trusted. He said Bennett released information about the audit to the media after being warned not to do it.
Pullen said Bennett was right to be censured by Senate President Karen Fann, R-Prescott.
"He had it coming," Pullen said in a July 25 text. "Disappointing. I like him, but he cannot be trusted."
In another text, Pullen said Bennett "has no clue."
"Long story," Pullen said in the same exchange. "He is a passive aggressive angry boy. Politics before reality."
Social media accounts unveiled
The records also show that the largest funder of the audit, The America Project run by former Overstock CEO Patrick Byrne, may have operated the audit's Twitter account for an unknown period of time.
In May 8 texts with Lori Hunnicutt, editor of the conservative website Arizona Daily Independent, Bennett indicated that he had given control of the account to "some guys from out of state tied to Logan."
"These guys are from fundtheaudit.com, I think," he wrote.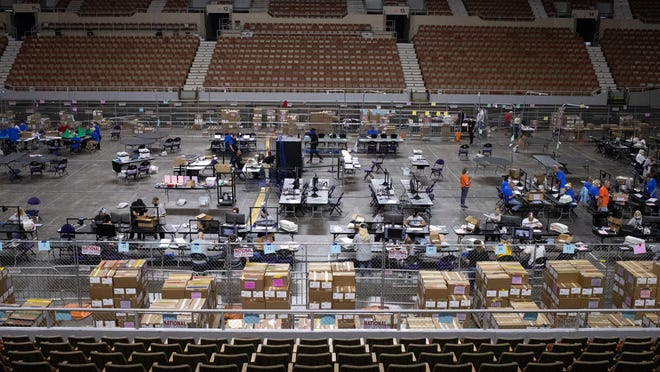 That website is tied to The America Project, which gave the Senate's contractor Cyber Ninjas $3.3 million of the $5.7 million in outside funding it had raised by July 29.
Bennett told Hunnicutt that he agreed with her when she told him the account was embarrassing.
"Last weekend they changed the password to control the account and I'm locked out," he wrote. "They're running it like a bunch of third grade bullies in my opinion."
By May 12, Bennett told Jeremy Duda of the nonprofit news organization Arizona Mirror that he had control of the account again. Yet Bennett was sending mixed messages about how much involvement he had.
He told someone he had saved on his phone as "Amanda H" in a text that he had approved a May 12 tweet from the audit's Twitter account that falsely claimed Maricopa County deleted election files from their database before providing the files to the Senate's contractors.
The Twitter post claimed the deletion was a "spoliation of evidence."
But in another text with County Recorder Stephen Richer, Bennett denied involvement.
Richer texted Bennett about the post, saying he was "a little surprised that the Twitter account would say I'm destroying evidence," and also asked him if he was running a separate Audit War Room account.
Bennett said back he was "not running that or any Twitter account for the audit."
When a Republic reporter asked Bennett on May 15 about the language in the post about the deleted files, Bennett acted as if he hadn't read it before. He said maybe it could have been worded differently.
The texts also reveal that Bennett knew who was running the audit Telegram account, even though he told The Arizona Republic that he did not.
"Amanda H" told him before the audit began on April 15 that she created the Telegram channel, and on July 27 someone in a separate text identified as "Amanda Howard" told Bennett that she was still running it.
In the texts, Bennett also tells Howard about the challenges the audit faced because Google had shut down the audit's email and volunteer spreadsheets, alluding to the fact that it might slow down the audit.
"Google has created havoc by taking down our forms and email," he said in an April 25 message. "The contractor is considering almost doubling the shifts each day in order to get the work done by the 14th (of May) so we're gonna need more volunteers when that happens."
The audit did not conclude until July.
Inside effort to canvass Maricopa County:Organizers deny audit ties as questions remain
GOP fund-raising email adds strain
Some of the messages reveal tensions between Republicans over the audit.
On May 24, Fann sent a text to Kelli Ward, chair of the Arizona Republican Party, about a fundraising solicitation for the party that referenced the audit.
"It's putting us in another rabbit hole since the auditors are getting outside contributions," Fann said to Ward.
Ward responded that "GOP needs resources to keep the pressure on," and that if people don't want to donate they don't have to. "Who is concerned enough to complain?" Ward asked.
Fann responded: "National Republican people."
Ward responded that those people should be helping the effort.
Judge to check in Wednesday
As for the records that were not provided, American Oversight and the Senate were scheduled to address those with a judge Wednesday.
The records American Oversight and The Republic requested then sued for fall into two categories, those the Senate possesses and those in the possession of Cyber Ninjas and subcontractors who worked on the audit.
The documents in possession of the Senate are what Maricopa County Superior Court Judge Michael Kemp ordered released Tuesday.
The judge in The Republic's case, John Hannah, issued a similar order for those records and a privilege log to be released by the same time and date.
The Republic and American Oversight will have the opportunity to challenge the Senate on records it did not release. Kemp may review the documents the Senate continues to withhold.
Kemp previously said the records possessed by Cyber Ninjas and other contractors also are public, but the Senate appealed that order to the Arizona Supreme Court, which put a hold on a lower court order to produce them.
Hannah, in The Republic's case, made a similar determination and ordered Cyber Ninjas to preserve the records so they are available pending the outcome of the Supreme Court case.
This is a developing story. Return to azcentral.com for additional updates.
Reach reporter Ryan Randazzo at ryan.randazzo@arizonarepublic.com or 602-444-4331. Follow him on Twitter @UtilityReporter.
Thank you for subscribing. This premium content is made possible because of your continued support of local journalism.