Arizona Senate plans its own recount of ballots at fairgrounds as audit nears end
The Arizona Senate will conduct its own recount of the total number of Maricopa County ballots cast in last fall's election, Senate President Karen Fann said Thursday.
The Senate has purchased two paper-counting machines to serve as a check on the work done by its contractor, Cyber Ninjas, as well as the count done by county elections officials.
Fann called it a "triple-check" on the number of ballots cast as the audit is winding down toward a possible end late next week.
"We're going to run all the ballots through to see how they match up," she said in an interview an hour after stopping by the audit's new location in a muggy, swamp-cooled building at the state fairgrounds.
"If there ends up being a difference, we'd have another count," Fann said.
Fann and audit spokesperson Randy Pullen emphasized the plan is to simply count the number of physical ballots cast in the November 2020 election, and not to recount the vote tallies for president and U.S. Senate.
Maricopa County officials have said about 2.1 million ballots were cast by voters in the county.
Pullen said the paper-counting machines are due to arrive Friday and it will take a day or two to set them up and train volunteers, under the direction of a newly hired technician.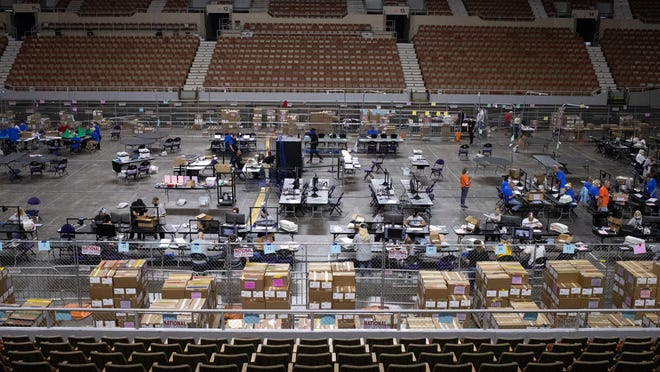 The machines can count up to 2,000 sheets a minute, he said, although a more realistic expectation is 500 per minute, given the way the ballots are batched and the protocols the auditors must follow to protect the chain of custody.
At that rate, the work could be wrapped up by late next week, Pullen said, although if more time is needed, the audit will continue and with an extended lease at the fairgrounds.
Arizona audit update: The Arizona Republic takes Senate, Cyber Ninjas to court for audit records
Fann: I never said there was fraud
In a wide-ranging telephone interview, Fann said it will take another four to six weeks before she gets a final audit report.
Asked about efforts by Republicans in other states to do their own version of the audit, Fann, herself a Republican, said Arizona could provide a helpful template.
"There are a lot of people who are going to learn from us," she said, adding she has no quarrel with copycat efforts as long as the intent is to identify potential improvements in the election process, not to reverse the 2020 results.
She reiterated her long-standing defense of the audit, that it is happening to address public concerns about election integrity.
"Contrary to what you see and what you hear, I have said from Day One, I have never, ever said there was fraud," she said. "This was about election integrity."
She also defended her office's position that it cannot release records of communications between Cyber Ninjas and its subcontractors, a point challenged in a lawsuit filed by The Arizona Republic.
"I have already turned over everything I have," she said. "What you don't have is what I don't have."
If the Senate is compelled to release emails and other documents between two private firms, Fann predicted many businesses would stop bidding for government contracts, knowing their private data could be made public.
Muggy conditions at fairgrounds
Thursday marked Fann's third visit to the audit since it started in April and the first since the Cyber Ninjas and their contractors moved into the Wesley Bolin building, just west of the cattle barns at the state fairgrounds.
"I was on my way out of town," said Fann, who lives in Prescott. "I thought I would swing by to just get a visual of the facilities and make sure everything is OK. It is a little warm."
She said she arranged for more portable air-conditioning units for the audit's new location in the Wesley Bolin building, which only has evaporative coolers. Pullen said the units arrived Thursday.
Fann and Pullen both said the building meets safety standards. Although the state fairgrounds website says the building "is not recommended for use between May through September" because of high temperatures, Pullen said the building meets the standards for short-term storage of paper materials, such as the ballots.
On Thursday, the indoor temperature was 88 degrees and humidity bounced between 45% and 55% percent. The standards he referred to allow for a maximum humidity level of 65%, he said.
Election audit continues:Maricopa County ballots move to swamp-cooled building at fairgrounds
'Clean-up' work left to do
About two dozen workers will spend the next week going over digital files of ballots to ensure workers in the coliseum counted ballots and duplicates correctly, Pullen said. He referred to the process as "just cleaning stuff up" but did not go into specifics.
"All they're doing is clean-up work," he said. "They're double- and triple-checking everything."
Most workers were out of eyesight behind the barricades and equipment set up in the building. Pullen, a former chairman of the Arizona Republican Party and a former Deloitte auditor, spent time making calls at a gray folding table and checking in on small clusters of workers.
About a dozen people worked inside the building behind a fenced-in area: Some were seated at computers with wide-screen monitors; others were busy moving stacks of documents around.
Workers at the computers would get a file folder delivered to them. A worker would then open it and they appeared to check it against whatever was on the computer screen. When that was done, the worker would make notes inside the file folder.
Long folding tables were set up in the space between two of the barrier fences that surrounded the work area. At one point, Cyber Ninjas attorney Bryan Blehm sat down at one of the newly erected tables and worked on his laptop. 
Journalists have limited access
Like the proceedings at the coliseum, journalists have limited access inside the Bolin building.
A security official initially denied an Arizona Republic reporter access to the building Thursday, citing the newspaper's special action seeking audit-related records.
After nearly 30 minutes, security let media into the press area — a wide-open bare floor, with an extension cord hanging from the ceiling as a power source, separated from audit workers by three rows of fences.
An observer from the Secretary of State's Office was made to stand far from the activity behind three layers of fencing. Other observers, in orange shirts, were inside the fenced-off area where work was proceeding.
The ballots were stacked in a separate fenced-off area along with the tabulation machines.
The most recent lease available for the Bolin building runs through July 14 and specifies that the Senate may use the building "for the purposes of storage only."
After months, is an end in sight?
The unprecedented partisan count of the Nov. 3 election started April 23 in the coliseum. It originally was scheduled to wrap up May 14, but the lease was extended through June 30 before moving to the Wesley Boling Building on July 1.
In addition to the county's nearly 2.1 million ballots, Pullen said the facility still is housing 385 county machines used to tabulate ballots at voting locations. The machines will stay there at least a while longer as the "Senate is determining where they want those stored and secured," he said.
Reach reporter Pitzl @maryjo.pitzl@arizonarepublic.com and follow her on Twitter @maryjpitzl
Reach reporter Joshua Bowling at jbowling@azcentral.com or 602-444-8138. Follow him on Twitter @MrJoshuaBowling.
Support local journalism. Subscribe to azcentral.com today.