Analysis: Premium economy is airlines' answer to shifting passenger expectations
Zach Wichter
USA TODAY
Business class has gotten more luxurious, leading some airlines to get rid of long-haul first class.
Premium economy now fills the gap that business class was first designed to address.
For travelers, these changes could mean better options at different price points.
When KLM introduced its new Premium Comfort cabin this summer, even the airline's executives aboard the inaugural flight admitted that it was a long time coming.
"We were a little bit late in this product development," Boet Kreiken, the airline's executive vice president of customer experience said in an interview above the Atlantic. "The market has changed."
Premium Comfort is the Dutch airline's take on long-haul premium economy, a relatively new class of service that frequent flyers are increasingly expecting on longer flights.
But many industry watchers say premium economy's ascent is just history repeating itself. In some ways, they see premium economy as the new business class and business class as the new first class for many airlines.
Sneak peek:Take an early tour of KLM airlines' new Premium Comfort cabin
'The space was not built for me':Plus-size flyers say airlines have room to improve
"As first (class) moved into fancier and fancier products, business class came in to take up that space in between and marketed toward productivity ... that went from being originally a nicer, comfier, more reclined seat to being a full suite with a door and lie-flat functionality," said Rob Wilkey, director of aviation and mobility at Formation Design Group. "The valley between a business class ticket fare and main cabin ticket fare opened up to the point where there was an opportunity there ... some people did just want a little more comfort than what's available in economy, so it's pretty clear why that opportunity opened up."
What is premium economy?
In the U.S., many airlines offer variations on premium economy. American Airlines has its Main Cabin Extra seats with more legroom on most two-class planes and a dedicated Premium Economy cabin with more luxurious recliner-style seats on some of its larger aircraft. United, similarly, offers Economy Plus seats with more legroom on some planes and Premium Plus recliner-style seats on others. 
"Premium economy" is a sort of amorphous term. Every airline treats its premium economy cabins slightly differently. What's available can also vary by route or even aircraft type.
KLM's partner Delta Air Lines, for example, offers Comfort+ and Premium Select seats on many international and transcontinental routes. Other flights, however, may only have Comfort+. Both cabins could accurately be called premium economy, but Comfort+ is essentially a standard economy seat with a little more legroom, while Premium Select comes with a bigger seat and enhanced service akin to KLM's Premium Comfort. 
The rest of this piece is mainly going to focus on the more luxurious version of premium economy, like KLM's Premium Comfort.
First class vs. business class vs. premium economy: What passengers have come to expect
According to Bob van der Linden, curator of air transportation at the Smithsonian National Air and Space Museum, first class has been around almost as long as commercial airlines have. Aside from the very earliest days, when any kind of flying was considered the pinnacle of luxury, airlines quickly tried to distinguish themselves and appeal to higher-paying customers by offering more comfortable seats and better amenities for a price, he said.
But as first class became more luxurious, offering lie-flat beds and extra space to spread out, passengers traveling for their jobs were frustrated by their inability to access some of its benefits at a price their companies would underwrite. 
"For many, first class was just too expensive even for businesses," van der Linden said.
And, as flying for work became more common, Wilkey added, passengers and airlines saw an opportunity to create a new middle ground.
"My understanding was business class came around when it was seen that this is a space where productivity can actually happen," he said, and it quickly evolved from a dedicated section in the economy cabin, much like early iterations of premium economy more recently, to something more luxurious. 
"The seats went from being larger, cushier standard upright seats that recline a little more all the way to the level of ... for productivity, maybe it's actually more productive for you to get a nice rest on the plane so when you land you can be refreshed and keep working and things like that, so lie-flat was kind of a natural evolution of that," Wilkey said. "Today, if you don't have that, it's not a true business class, it's not really that competitive."
Here's how it usually breaks down today on long-haul flights:
First class is the most luxurious option, typically with a fully flat bed and loads of space, as well as top-notch food and drinks. Emirates even has onboard showers for its highest-paying customers. (This isn't to be confused with domestic first class, which is usually a recliner-style seat.)
Business class is also pretty luxe, though, on airlines that still have both first and business, the seats typically have less room and slightly fewer amenities in comparison. Lie-flat beds have become the norm for long-haul business class, as Wilkey mentioned.
Long-haul premium economy is typically a recliner-style upright seat, similar to domestic first class. Many airlines offer enhanced amenities for their long-distance premium economy passengers, but the experience tends to be less luxurious than business or first class. 
"There's much more differentiation between premium economy and business than there is between premium economy and economy," Wilkey said.  
The merging of business and first class
As business class has become more luxurious, many airlines have begun to phase out their first-class cabins.
When American Airlines announced new business class suite seats in September, the airline also acknowledged that the rollout would mark the end of its distinct Flagship First and Flagship Business products.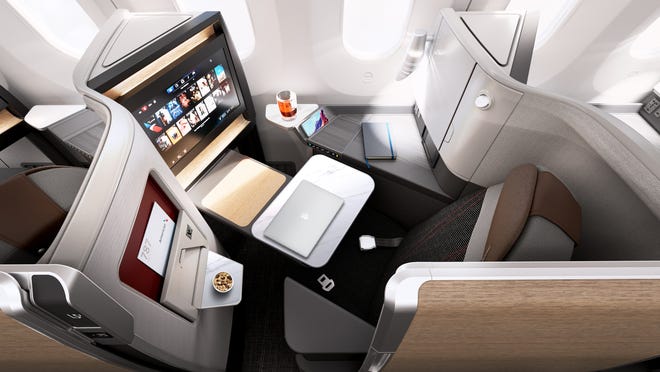 For Tim Chen, an American Airlines frequent flyer and a financier who frequently travels between his home in Brazil and Asia for work, that change seems like a natural progression.
"When British Airways came up with Club World, that was a game changer," he said, referring to the introduction of the first fully-flat bed in business class. With that, he added, "I don't think there's a need for a first class. Even if I had all the money in the world as a business person, I don't think I would spend that much money for a first-class flight ... It would be great to take a shower in the middle of the flight, but what's the need for it? It's just a gimmick."
But, Chen said, premium economy makes much more sense from a cost-benefit perspective, especially when companies allow their employees to take advantage of it on long transoceanic flights, rather than sticking them in economy. 
"Premium economy made a lot of difference. I felt it was a less humiliating and degrading flying experience," he said.
Airlines increasingly recognize the business case for that middle tier too.
Francis Garing, director of design engineering at Formation Design Group, said that when companies cut travel costs, paying for their employees to fly business class is usually one of the first benefits to get slashed. 
"I think that premium economy would fill some of that need of supporting longer duration travel without necessarily all of the costs associated with it," he said. "From an airline's perspective, it's an opportunity to take advantage of that situation."
How will premium economy continue to evolve?
"Everything tends to keep pushing upward," Wilkey, Garing's colleague, said. "As soon as you get out of that baseline (economy) product, it becomes a competition of: We're offering nicer things than the other airline. You should book our premium economy rather than theirs."
But that doesn't mean lie-flat premium economy seats are on the horizon, at least not anytime soon. 
"I think before we quite get to that level, you'll probably see more optimization of space within the aircraft in terms of blending classes," Wilkey said. "If you have business class seats that are nestled in with first class or premium economy seats that are nestled in the open spaces that are generated when you lay out an arrangement of business class seats, having less firm dividers and bulkheads between the classes, there's a lot of opportunity there to blend the cabin without truly sliding everything into a lie-flat class and an upright cramped class."
Behind the polarizing promotion:Southwest Airlines gives out ukuleles on a flight
Too long, expensive:Why the visa process could be 'discouraging visitors' and keeping families apart
Van der Linden added that airlines are just following the trends that other modes of transportation have already established. 
"Take a look at automobiles. Nowadays, what used to be the tiniest car in a manufacturer's product line, the name stays the same, but it gets bigger and bigger and bigger," he said. "Not to pick on Honda, but the Honda Civic used to be this tiny little car and now it's the size of what the Accord used to be."
Airlines and suppliers across the aviation industry are similarly working to find ways to squeeze every inch of available space out of their airframes and add amenities to make passengers feel more comfortable even as some configurations get tighter. 
"Adding features or better things like larger screens for entertainment and content, that goes a long way to enhance the perception of comfort," Garing said. "The whole arms race to see who's going to have the next best one."
That competition ultimately means travelers have more options at more price points, according to van der Linden. 
"In the end, it's the consumer who benefits because they get the product they want."